Does anyone want to share how creepy DOS graphics can be? both CGA/VGA types. Even Macintosh if you want to. As simple as DOS games could be back then, sometimes they get unintentionally creepy.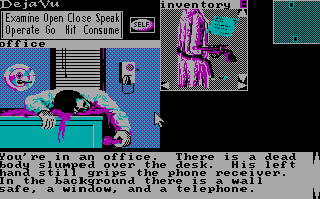 - Deja Vu: A Nightmare Comes True for DOS
There's this other game, Uninvited for DOS, is where you die at the servant's room. You get a closeup of his face and his eyes are just solid purple and his expression is just creepy. Can't get a picture of that, yet.